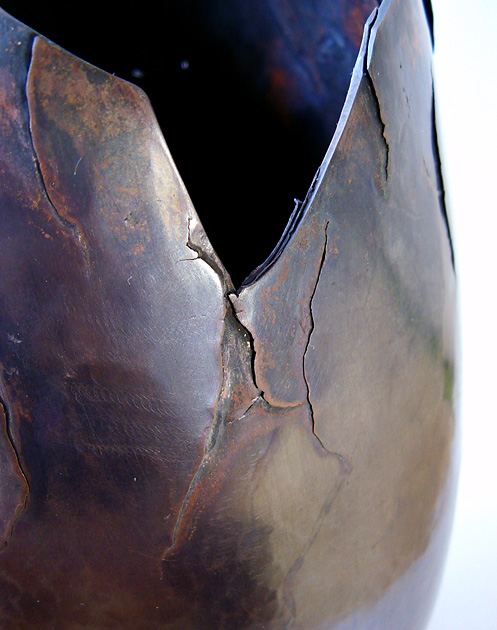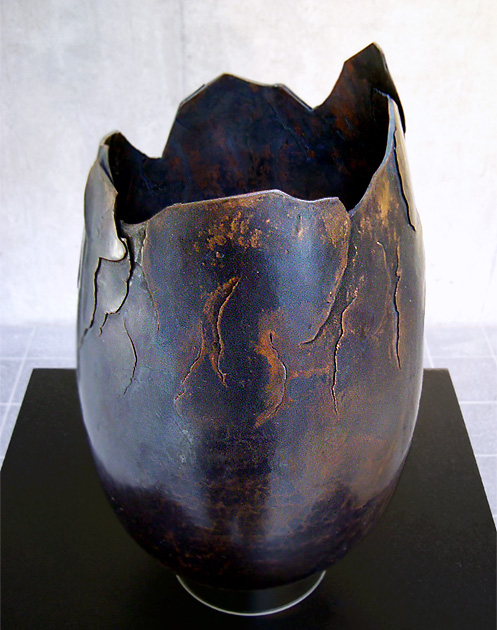 the formation of revolution vol.1
「絞り」をかたちをつくる技法としてみる視点から自由になった時、私は新たな視点を手に入れた。否定・再検証からそれは始まり、私は絞りによる銅板の変化に自然の生成原理みたいなものを感じた。私は素材を左手に持ち右手の金槌で1打、また1打と左手に持った作品を左に回しながら規則正しく叩いていく。すると素材は右から左に流れるような力を少しずつ少しずつ受ける。やがてその現象は物質としてほんの少しずつながらも素材に表出してくる。それはまるでオウムガイの螺旋、マドローヌの樹皮、グリーン・リヴァーの蛇行等と同じ種類の何かだった。Being free from the point of view that the raising is a technique to make the form, I gained a new perspective. It begins with question and re-verification, I felt something like a generation principle of natural world in changes of copper sheets by raising.
I have been hammering copper sheet regularly by hammer with my right hand while turning to the left it which I hold in the left hand.
It have been received powers flowing from right to left little by little. And then the phenomenon come exposed to the material with time. I felt it was something of the same kind of spiral nautilus, bark of madrone, the meandering of the Green River.
Title

the formation of revolution vol.1

Year

2005

Size

150 × 150 × 200 (mm)

Material

銅板

Collection

作家蔵,Artist Collection

Category